Mobility Solutions is excited to be exhibiting at this year's Ability Fest (Independent Living Scotland Show) at the SEC Centre in Glasgow on 4th-5th October 2017.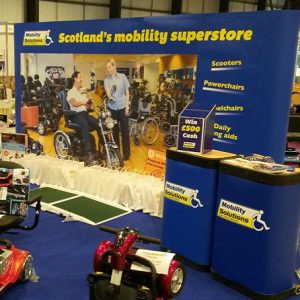 The staff from our Glasgow Superstore will be showcasing a variety of our latest, greatest and most popular products including adjustable chairs, scooters, wheelchairs, powerchairs, bathing aids and daily living aids.
The event, co-hosted by Independent Living Scotland, is Scotland's premier independent living event offering individuals with disabilities, families and carers, as well as healthcare professionals the very best opportunity to discover an incredible array of the newest products on the market.  During the two-day event over 100 companies, including Mobility Solutions and our sister company Allied Mobility, will be on hand to showcase their products and services and demonstrate the impact they can have on assisting and improving independent living.
The show is on from 10am-4pm on Thu 4th – Wed 5th October 2017, and you can attend the event for free by pre-booking tickets here.
Full details of exhibitors, conferences and shows that will be running over the 2 days can be found on the Independent Living Scotland website here.