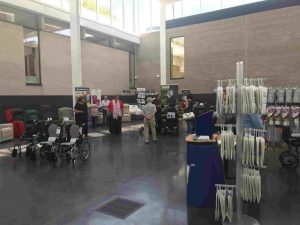 Mobility Solutions was delighted to exhibit at the Wales Mobility Day last week. In partnership with our sister brand, Allied Mobility, we visited St Fagans National Museum of History to showcase 12 wheelchair accessible vehicles (WAVs) and a wide selection of mobility scooters, wheelchairs and daily living aids.
St Fagans National History Museum
St Fagans is one of Europe's top open air museums, with over 40 restored buildings from the Celtic Era. The sun was splitting the sky as over 250 people joined us for the day.
Hundreds of Mobility Aids
In addition to the wonderful historical attraction, Mobility Solutions showcased a massive display of mobility aids including scooters, powerchairs, wheelchairs, rise and recliners, walkers, adjustable beds and daily living aids.
With expert advice on hand from our retail staff and leading suppliers including Pride Mobility, Quantum, Topro, Scooterpac and Recliners, visitors were able to find a wealth of information on all the latest mobility products. Furthermore, all products were available to try and buy on the day, meaning that some customers walked away with new purchases – everything from a brand new mobility scooter to a new kettle!
Our sister brand, Allied Mobility, also exhibited its entire vehicle range. With 12 wheelchair accessible vehicles (WAVs) on display, visitors were able to explore and compare every vehicle Allied has to offer.
Fantastic Feedback
We were thrilled to read the kind comments left by attendees who mentioned our "friendly staff", "no pressure environment" and "great atmosphere". Everyone at Mobility Solutions would like to thank those who attended the event and helped make the day a great success.
With three more events in store, check out www.mobilitysolutions.co.uk/events/ for details of our next venue.