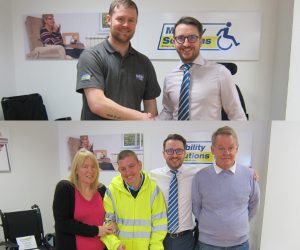 You may remember before New Year we announced the winner of our annual prize draw and that she had decided to donate her winnings to charity.
We're delighted to announce that after careful consideration the £500 winnings have been split between two Possilpark-based charities.  The DASH Club and Possobilities have each received £250 to go towards the fantastic work they do within the community.
New minibus
The DASH Club is an afterschool club for young people with complex special needs.  It caters for teenagers with learning difficulties plus a physical, sensory or behavioural difficulty.  These young people are given the opportunity to take part in a range of activities from swimming and athletics to ten pin bowling and dance.  The programme is designed to promote health and wellbeing and encourage creativity within a youth group setting.
The club has been fundraising for a new minibus, which they plan on putting their £250 towards.  Development Officer Sean Stirling said:  "We're always grateful of any donations. This £250 will go towards helping young people access a wider range of activities and enriching their lives.  We can't thank the prize draw winner enough for her kind donation."
"We can't thank the prize draw winner enough for her kind donation."
Gratefully received
Possobilities – formerly known as the Disability Community – were equally thrilled to receive their donation.  The group provides essential support to disabled people of all ages and encourages equality, understanding and acceptance of disability.  Possobilities runs a wide range of activities in their centre which is fully accessible and a social enterprise delivering hot meals and a laundry service for vulnerable, elderly and disabled people to encourage independence.
Possobilities' Ted Harkins explained that the money would be gratefully received and said: "We'd like to thank the prize draw winner and Mobility Solutions. This money will go a long way to helping Possobilities continue the vital work within the community."
We would like to thank our prize draw winner for making all this possible!
The Mobility Solutions prize draw is made annually in December.  The winner is picked at random from cards that had been completed in the Mobility Solutions showroom, at events throughout the year, or online.  To be in with a chance of winning next year, make sure you visit our Prize Draw page and enter your details.