The PainPod is one of the world's most trusted and best selling portable pain relief and muscle conditioning devices. It offers fast pain relief, drug free, anytime and anywhere.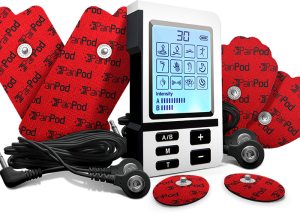 Designed in Australia, this is a modern version of a traditional TENS/EMS device, which treats a whole host of pains, aches and discomfort. It does so by transmitting an electrical current into the targeted area which stimulates blood flow and helps divert pain away. One of the major advantages of the PainPod 3 is that because of it's portable size, it can be used out and about, on the go… just about anywhere! It's instant action can be used to cure anything from chronic pack pain to a headache in just a couple of minutes, completely drug free. 
It is effective for: 
Osteo/Joint Pain

 

Back and Neck Pain

 

Pregnancy and Birth

 

Enhanced Sports Performance

 

Injury & Surgery Rehabilitation

 

Strength and Conditioning

 

Faster Recovery Rates

 

Warm Up and for Post Activity Fatigue

 

Knot and Trigger Point Relief

 

Chronic and Acute Pain

 
The PainPod is not just for those with chronic pain or issues with mobility, it is also used by athletes to help with rehab and recovery and to help with muscle enhancement. It helps accelerate the results of training and helps athletes perform at a high intensity for longer. 
With over 12 million units sold worldwide, the PainPod is an industry leader in it's field, trusted by individuals and professionals alike. 
Here at Mobility Solutions we have this particular device available for just £199 ex VAT, which is over £100 less than it's RRP. The Painpod is avaiable to buy online today.