Sixteen-year-old Francesca is glued to her mobile phone much like many girls her age.  Catching up with friends on the latest gossip in each of their lives.  While there are those who have strong opinions on social media and the negative effects it can have on young people, Francesca has a different opinion.  It's changed her life for the better. Now her world is more accessible and more supportive.
Taking its Toll
Francesca lives with Cerebral Palsy and uses a powered wheelchair.  She attends a mainstream school near where she lives in the North of England.  While she has lots of friends there, being one of the few disabled students at her school can take its toll. Francesca said;
 "Sometimes, it makes me feel physically isolated because I can't always do the things that my able-bodied friends can do."
With a Little Help from my Friends
But recently, Francesca found support through social media within the disabled community by making online friends who can share her experiences in a way her abled-bodied friends can't.  One of Francesca's online friends is Georgia who also has Cerebral Palsy.  The two girls met through an online charity forum two years ago and keep in touch regularly.  The effect the new friendship has had on both friends has been immeasurable. Francesca explained;
 "Since making friends online I no longer see myself as being alone in my experiences.  It's changed my perception of my disability for the better."
The Power of Social Media
The power of social media to bring people together has much wider implications for the disabled community, according to blogger, Emily Davison.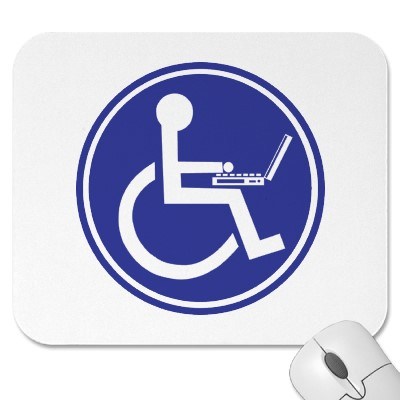 Emily has a rare disability which affects her sight and her endocrine system.  She also has a large following online.  Emily is the creator of a blog and a podcast where she talks about everything from fashion and beauty to her day to day life.  Emily believes that aside from providing support, social media can also spread the word about disability in a new way, allow people to find out about the latest disability news and challenge the myth that people with disabilities don't have fun. Emily explains;
 "I have come across people who are under the belief that people with disabilities don't have fun, jobs, a social life, relationship, hobbies or interests. Social media can be the place where you dispel those myths."
Connecting People
Most importantly though, it gives a voice and a platform for people to share their views and the potential to prompt real change.  For Francesca though, it's more about making a connection than myth-busting and social change. Francesca smiled;
 "I no longer see myself as being alone in my experiences.  Even if I'm alone in my bedroom, I'm not alone because I can be a part of an online community."