Figures show that in England alone, thefts of parking permits for disabled motorists have quadrupled in just four years. In 2012-13 there were a reported 656 blue badge thefts, jumping to 2,921 in 2016-17. These figures were revealed by the Department for Transport (DfT). The latest figures published highlights a rise of 14% year-on-year.
Blue badges are owned by around 2.4 million people in England and allow special permissions to those in need. They allow badge holders to park free of charge in pay and display bays and for up to three hours on yellow lines. In London they are an exemption to paying the congestion charge.
Blue Badges Are a Vital Lifeline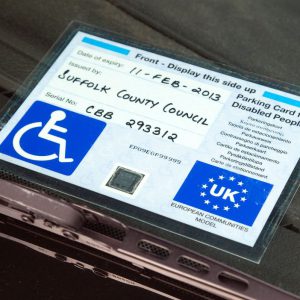 Richard Lane, head of communications at the disability charity Scope, said: "It's appalling that people are stealing blue badges, which are a vital lifeline for those who genuinely need them."
"Many disabled people rely on their blue badge to live independently, be part of the local community and contribute to their local economy."
"The police and councils need to ensure they are serving their disabled residents by cracking down on this abuse."
Martin Tett, transport spokesman for the Local Government Association has said that the increase in this crime is alarming. He also questioned how "callous thieves" could carry out such crimes whilst emphasising the impact it would have on the victims.
He said: "For disabled people, blue badges are a vital lifeline that helps them get out and about to visit shops or family and friends…unscrupulous fraudsters using them illegally are robbing disabled people of this independence."
Action Taken by Councils
Action was taken by local councils against 1,131 motorists for blue badge misuse in 2016-17 up by 25% on the previous year. Almost all the related cases involved drivers using someone else's blue badge.
Mr Tett added that local councils needed the support of locals to stop the escalation of this crime but explained there were difficulties in this.
He said: ""To help councils win the fight against blue badge fraud, residents must keep tipping us off about people they suspect are illegally using a badge, bearing in mind people's need for a badge might not be obvious."
The DfT announced plans last month to help those with hidden disabilities who are entitled to blue badges to create parity in the treatment of physical and mental health.